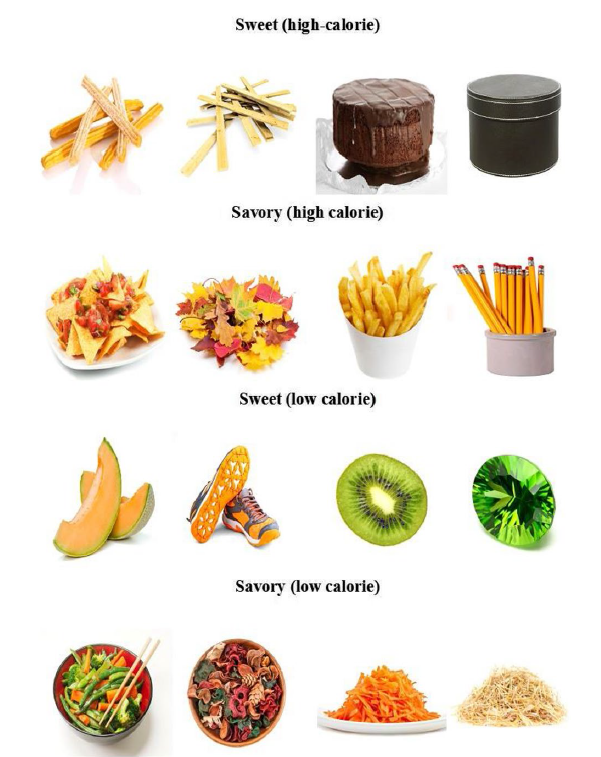 Background
---
Industrialization has led to more varied and attractive high-calorie foods. Health problems such as obesity and diabetes are partially attributed to eating-related self-regulation difficulties that may be caused by increasingly frequent cues for highly palatable foods. Research studies aim at understanding the factors underlying responses to food cues. This has led to the development of this food stimuli database whichprovide a ready-to-use database with normative data regarding responses and associations between demographic, anthropometric and eating-related characteristics, and picture ratings.
The database
---
It includes 40 food pictures with high- and low-calorie stimuli, matched with 40 non-food pictures. Image characteristics (shape, colors, luminance) are comparable between food and matched non-food pictures. Attractiveness, arousal and palatability are specified for each food picture.
Terms of use
---
We provide the database free of charge on the basis of use for research purposes only, and in accordance with The Code of Ethics of the World Medical Association (Declaration of Helsinki) for experiments involving humans. When publishing the data, cite following reference for the validation of the database:
Shankland, R., Favre, P., Corubolo, D., Méary, D., Flaudias, V., & Mermillod, M. (2019). Food-Cal: development of a controlled database of high and low calorie food matched with non-food pictures. Eating and Weight Disorders-Studies on Anorexia, Bulimia and Obesity, 1-10. https://doi.org/10.1007/s40519-019-00687-8 
Access to the database

---
Fill out this form : https://forms.gle/qrUPHwn4raXbwCkf9
You will receive an email with the link and the password to download the database.
Contact
---